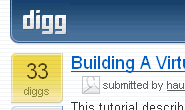 This is no suprise as Google moves in to finalise the deal to buy Digg for close to $ 200 million as the search giant continues to expand its news services. Digg was launched in 2004 by a group of young enterpreneurs in US and is one of the top new aggregators.
Should the acquisition go through , then most likely Digg's three-year advertising deal with Microsoft, which accounts for most of the company's revenue, would be terminated.
This would be another blow to Microsoft unless it swoops in with a counter offer to Digg.  Will Microsoft seriously consider making an offer to Digg.com
Leave your comments,  let others know what you think .