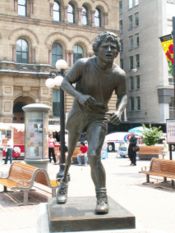 Terry Fox is an inspirational hero in Canada. His story I believe is worth sharing with the wider world.
Terry Fox was born in 1958 in Winnipeg, Manitoba, but grew up in Port Coquitlam, British Columbia. Terry Fox was a regular guy, but at the age of 18 he was diagnosed with bone cancer which meant the amputation of his right leg 6 inches above the knee. Tragic, but what makes Terry special is that rather than submit to self-pity he decided to devote his life to making a difference.
While recovering in hospital Terry was deeply affected by the plight of other cancer sufferers, many of them children. Touched by the story of an amputee athlete he decided that he would run across Canada to raise awareness, and funds, to combat this terrible disease. He called his run the "Marathon of Hope"
Terry began his epic journey by dipping his artificial limb in the Atlantic at St. John's, Newfoundland on April 12, 1980. Sadly his run ended in Thunder Bay, Ontario on September 1, 1980 after the cancer had spread to his lungs. Terry ran an average of a marathon – 42 kilometers, 26 miles – every day for 143 days.
Terry passed away in June 1981, one month short of his 23rd birthday. However, four months earlier he achieved his dream of raising one dollar from every Canadian. Terry Fox remains a Canadian hero, inspiring numerous events each year.
The heroic Canadian was gone but his legacy was just beginning.At the time of writing over $400 million had been raised for cancer research.
He is considered one of Canada's greatest hero of the 20 th century and is celebrated internationally every September as people participate in the Terry Fox Run, the world's largest one day fundraiser for cancer research.
To learn more about Terry, or to donate to Terry's fund, visit The Terry Fox Foundation
Why is Terry Important?
A statue of Terry Fox stands in the grounds of Simon Fraser University. 
A sad story, sure. Inspiring, certainly. But why is Terry Fox featured on a Web site concerned with Make money online ?

Inspiration, Belief, Faith, Dream…….These are the foundation pillars of a successful entrepreneur.
"I don't feel that this is unfair. That's the thing about cancer. I'm not the only one, it happens all the time to people. I'm not special. This just intensifies what I did. It gives it more meaning. It'll inspire more people. I just wish people would realize that anything's possible if you try; dreams are made possible if you try" – Terry Fox
"When I started this run, I said that if we all gave one dollar, we'd have $22 million for cancer research, and I don't care man, there's no reason that isn't possible. No reason!" – Terry Fox

The Power of Belief
Henry Ford said "Whether you believe you can do a thing or not, you are right."
If you want enough, believe enough, dream enough and try enough anything is possible. If you think negative you won't even try, and so your accomplishment will be zero. If you think positive you will try your best, maybe you'll achieve your goal and make it big.
Terry Fox ran an average of a marathon – 42 kilometers, 26 miles – every day for 143 days with one prosthetic leg to create awareness for Cancer. How far will you go, what will you do to achieve your dream, How many hours a day will you work to make your business successful.