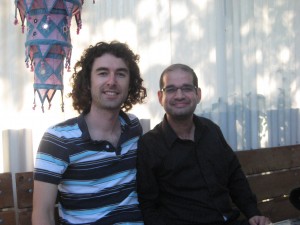 My Blogger friend Yaro Starak (who needs no introduction in the Blogosphere) and Gideon Shalwick from BecomeABlogger.com have finally released their highly anticipated new report.
It's called "The Roadmap To Become A Blogger" Or Simply…"The Roadmap"
The Roadmap to Become A Blogger is a 72 page power packed information guide to get you stated with your blogging career and it doesn't cost a thing to download
If you're new to blogging and still trying to figure out what exactly you're supposed to be
doing with your blog, this may be the most important report you'll read all year!
I started my Blogging career following Yaro and the FREE Video Tutorial on his blog .
Let me tell you that the Roadmap to Become A Blogger is the best Free download guide on blogging. I am yet to see anything better than this available at no cost.
The Roadmap report covers two key concepts:
1. The step-by-step "formula" that Yaro Starak used to create his amazingly successful blog
and very importantly…
2. Thirteen X-Factor strategies that you can implement immediately to put your blog into
superdrive!
Inside this amazing new report, you'll discover…
– How to ethically exploit the biggest wave in technology since the invention of the telephone…
– How Yaro and Gideon stumbled upon the "X-Factor" For Blogging Success, and how it turned upside down everything they thought they knew about blogging.
– Why not deploying the "X-Factor" in your blog could cause your blog to crash and burn, never to recover.
– 7.4 million reasons why your blog will fail, unless you know how to take advantage of the intersection of two huge Internet trends.
– How a new way of using video, images and a blog turned a penniless actor into an Internet Superstar!
– 13 secret strategies to attract traffic to your blog like bees to a beehive, turn your competitors green with envy and help you make a huge success of your blogging efforts.
– And much MUCH MORE…
Download the The Roadmap to Become A Blogger
Yaro and Gideon really know what they're talking about when it comes to blogging.
For example, as I'm writing this email, there has already been 63,268 downloads of their complimentary videos on becomeablogger.com
That's enough proof to me that whenever Yaro and Gideon speaks, hordes of people stop what they're doing, and listen.
Also, it's no secret that Yaro Starak makes a very comfortable living from his blog…in October of 2008 alone he made more than most people make in a year!
You can learn from a blogging superstar like Yaro within a few minutes without paying a cent – it really is priceless!
If you like this post , you may want to subscribe to my Email or RSS feed.