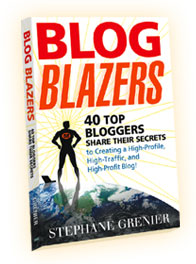 The following are the winners of the The Blog Blazers Twitter Contest
– @ganeshsrinivas
– @clickktdotcom
– @Splendidkid
– @RoyalAntsJosh
– @ArunBasillal
Congrats to all of you on winning a printed copy of Blog Blazers by Stephane Grenier, I have also sent you a Tweet on Twitter. Please send me your postal details using the contact form on this blog or via a direct message on Twitter at the earliest to send you the book. I thank all of you for taking part in the Twitter Contest.
I also want to thank Stephene Grenier for sponsoring 5 printed copies of Blog Blazers.