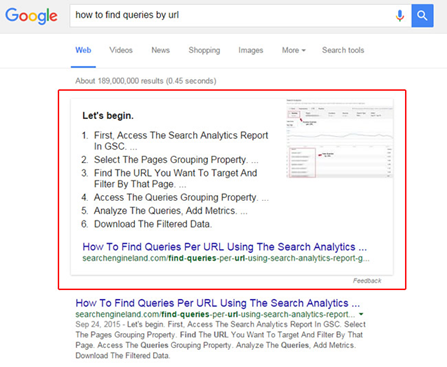 Do you want to skyrocket above competitors on page one, increase page views, and boost conversions? Google featured snippets are an ideal option to get on the front page of Google. These snippets have the ability to drive a ton of attention toward your site and act as a valuable weapon for marketers to manipulate SERP result.
But, how to create a content that rank in the featured snippets? Don't fret!
With a few easy to perform techniques in hand, it's easy to rank for featured snippets with organic content.
Five Tips to Optimize Google's Featured Snippets
1) Search, Seek and Answer:
'What', 'How does', 'How do', 'How to', 'What', are some of the phrases used by people while searching for information online. A recent report states that 19 percent of searchers use a question result in a featured snippet on the first SERP. So, the best way to get featured in snippets is to uncover the questions people ask that relate to your products and services.
2) Aim High-Ranking Pages:
If you have pages that are currently ranking high in search engine results., use those pages as the jumping-off point to get featured with Google snippets. For example, if your website ranks extremely well for the key phrase 'RPG games for PS4', then use it effectively to multiply your results with Google's featured snippets.
Also, if a page of your website ranks within the top five positions, then it is easier to land the Google snippet spot.
3) High-value Content:
According to the search engine expert Neil Patel, "If your content doesn't answer questions, it won't get into the featured snippet. That's all there is to it."
So, boost the value of your content by following the below steps.
– Answer a variety of topics related to the customers question.
– Story-telling is a proven method to capture the interest of your audience and engage with them effectively.
Increase the value of your content by giving story-based examples.
– Most of the readers online are visual learners, hence spruce up your content with images and videos.
4) Add New Sections:
Google featured snippets are the great opportunity for companies to elevate their content and harness more visitors to their sites. Creating or adding more new sections to your website that are focusing around the queries of your customers, has a greater likelihood of being featured with Google snippets.
5) Don't Forget YouTube:
When most of the brands are running behind optimizing the content to get a place on Google snippets, they totally forget about another great opportunity – videos. The demand for videos online is growing day by day and has become a key area to focus on.

Did you know?
Engagement for video is high, with 65 percent of video viewers watching more than three-quarters of a video. In fact, 59 percent of executives agree that if both text and video are available on the same topic, they are more likely to select the video.
6) Tips to Get Your Video Content Featured:
– Create a title of the video exactly same as the question which you want to rank on snippets.
– Including a voice transcript helps Google to pull text directly from this voice transcript which increases your chances of ranking.
– Ensure that the content featured in the video thoroughly answers the question of the viewers and prevent them from 'hitting back' when watching.
By following the above tips, you can capture a side of the Google snippet which other marketers are not using enough.