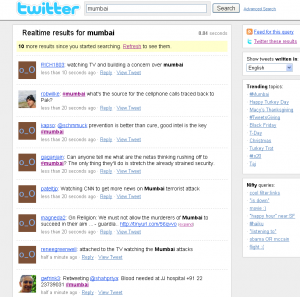 This amazing powerful tool called Twitter has proven that its not only effective to market products online and generate traffic but also a very important tool to cover events and updates. Live blogging on Twitter took an all time high yesterday when terror struck Mumbai.
Bloggers across Mumbai updated live feeds via Twitter after gunmen launch attacks on Mumbai city, highlighting the emergency of citizen journalism in news coverage.
Bloggers were uploading pictures and images of attacks from the damage sites. Some bloggers provided running description and commentaries from near the action, while others vented emotions.
I got to know about the attacks on Twitter, much before any media covered it online. In a matter of seconds number of messages ( tweets and re tweets ) from Twitter fans created a live blogging viral effect of the incident.
Close to 80 Twitter feeds were being posted every 30 seconds and this still continues as bloggers send live coverage updates via Twitter. Several news channel were reported to carry out live feeds of Twitter updates on Mumbai attacks.
The Live blogging from the attacks in Mumbai still contine on Twitter as I write this post, you can view Live Twitter Feeds here
Is Twitter changing the way mainstream media covers an event? This is one of the first instances I ve seen on citizens covering an event thro live feeds, the Twitter revolution seem to have begun worldwide. Can this application change the dynamics of the digital media industry ?
You may experience a minor issue while commenting on this post, I am working on fixing this. It should not deter you from commenting.
Keep Twittering
If you like this post , you may want to subscribe to my Email or RSS feed.