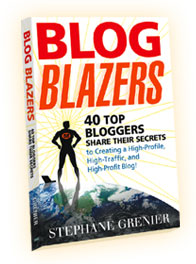 I approached Stephane Grenier – author of one of the hottest books on Blogging – Blog Blazers to see if he was interested in sponsoring a Twitter contest.
Stephane said he was happy to participate !
So here is the deal. We are going to giveaway 5 hard copies of Blog Blazers to 5 random winners of the contest. Yes, Stephane has agreed to mail the winners a hard copy of the book to anywhere in the world. Thanks Stephane.
Want to win one? Here's all you have to do.
1) Follow @WebTrafficROI and @StephaneGrenier on twitter.
2) Simply tweet- Just entered to win 5 copies of Blog Blazers. Just follow @WebTrafficROI and @StephaneGrenier & retweet http://xr.com/BlogBlazers
3 ) After you have tweeted, comment here with your twitter update link ( click on the time dimension "less than X seconds ago" below your tweet and copy & paste your update link in the comments ) or send me a reply on Twitter saying "Tweeted".
ie. Your Twitter update would look like http://twitter.com/your twitter id /status/xxxxxx
Don't worry if you can't comment here or send me a reply, I ll check all my tweets via Tweetlater.com
You can Tweet as many times as you want but you ll get only 1 entry per twitter id, if you blog about this contest I ll give you 5 additional entries. Please ensure you post your blog link in the comments. More the entries better your chances of winning.
This contest is open to people anywhere in the world and is FREE to enter (as long as it's legal for Stephane to ship to you). Contest closes 16 th March 2009.
Join Twitter if you have'nt yet joined this exciting micro blogging platform.
Keep Twittering, Keep Winning