I've always been excited by affiliate marketing, its the easiest way to make money without having to own a product. While there are lot of affiliate networks that have some good programs, most of them are not able to keep up the momentum they start off with. A good affiliate company depends on the number of merchants it has in its network and the payout in commissions to its affiliate marketers.
Let's take a close look at an affiliate network that has been creating a lot of buzz in cyberspace.

Who is T3Leads ?
T3Leads is a specialized affiliate company that focus' on lead generation or CPA (cost per action ) offer in the financial domain. It means that as an affiliate marketer if you promote T3Leads' advertisers you ll be paid on a cost per lead basis.
This could be very lucrative if you have an audience that is targeted for the product you market. It has offerings in the following niches: Insurance, Mortgage loans, Foreclosures, Auto Loans, Debts and Payday loans affiliate program. This is a clear indication to its competitors that T3Leads is a player in the financial domain and is aggressively building its way to being the top affiliate network in the financial industry.

Design & Interface:
The home page looks very impressive and easy to navigate. The website has a clean and professional look that gives it a professional approach. The registration process is one of the most simple process I've seen, it took me less than a minute to fill in my details.
The site distinguishes its content into three main buckets:
– Affiliate Solutions
– Merchant Solutions
– Lead Programs
These content buckets are well organized and simple to follow instructions if you are a new merchant
or a new affiliate.
The Offers & Payout :
T3Leads has one of the top offers in the industry and they back it up well by giving their affiliates great tools to market the products.
– Landing pages : Every offer has a relevant landing page that has been tested for conversion , which help affiliates to concentrate more on their marketing efforts and not worry about working on landing page issues.
– Keywords : They have managed to design an application that will help you with a list of keywords for you to target your PPC campaign, this is a great resource to have for any PPC marketer.
T3Leads has one of the top payout offers in the affiliate network industry. An average CPA lead program can make you $ 5 to $ 55 in affiliate commission which is very high and works well if you plan to promote the offer via PPC advertising.
They offer 5 % residual income for affiliates referred to them. They also have a page dedicated to their pricing structure with guidelines and conversions rate. The payment option are epassporte, Company checks, Bank Wire Transfer, WebMoney and Paypal.
I've already started to use this for one of my insurance blogs as I've found a great fit in the offer and my site audience. I am also planning to start a PPC campaign for auto loans as I've found the landing page to be very promising.
T3Lead Bonus for Affiliates :
As soon as you sign up, you ll see that the company is committed to rewarding it's top performing affiliates. The bonuses cover Sony Vaio, Bose Sounddoc, Ipod 80 GB and much more. I don't know about you but I have my eyes on the Sony Vaio.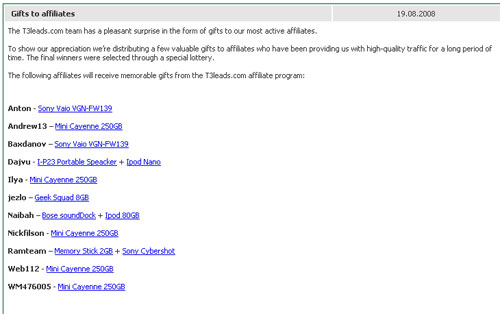 Sign up with T3Leads and start making money.