I' ve been trying to convince my ex boss to use Twitter as a tool for marketing his online products and projecting his site as a voice or an expert in the domain, he is'nt convinced that spending time on Twitter will be beneficial. He thinks Twitter a waste of time.
When he asked me how much time I spent on Twitter and was it worth the time spent, I actually did not have an answer. I begun my search to find out how much time I had spent on Twitter since I started to tweet.
I came across Tweetwasters.com, this is a fun site that tells you the actual time you spent on twittering as well as tells your rank compared to other twitterers. Its also has a plugin that can display your tweetwasters stats on your blog, if you want to display how much time you spend on twitters to your readers.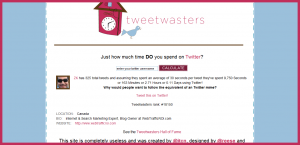 As per the calculation I' ve had 325 total tweets and assuming they spent an average of 30 seconds per tweet they've spent 9,750 Seconds or 163 Minutes or 2.71 Hours or 0.11 Days using Twitter!
My Tweetwasters rank: #18150

Check out how much time you've wasted on Twitter
While this is just a fun application, it has nothing to do with Twitter not being an effective tool to market your products. I highly recommend you to use Twitter and follow me . And no I am not sending this to my boss, unless he happens to see it on the blog.
Do you think Twitter is a waste of time, how much time have you wasted on Twitter ?
If you like this post , you may want to subscribe to my Email or RSS feed.