One of the key success for any PPC ( Pay Per Click ) campaign is based on the relevancy of your landing pages. Landing pages are where the conversions are. These are customized pages where the visitors land when they click on a sponsored link, ad or other online call to action.
I don't spend any money on PPC till I have a separate landing page and I am satisfied with the conversion of my landing page, while it may take a while to test the conversion of the landing page the exercise is essential to ensure that you get maximum ROI on your PPC ( Pay Per Click ) spends.

Below are 5 Tips to Ensure Landing Page conversions.
Ensure that every different PPC ad that has a different creative, has a different landing page based on the communication of your PPC ad.
– Use a lot of landing pages :
According to a 2007 report by Marketing Sherpa, 71 % of landing pages are destination from email links, while 68 % are destinations from paid search ads. Landing pages should be created for text ads, news releases, email blasts and other online communities.
– Maintain relevancy and the theme :
Relevancy is a critical component of the PPC mix and landing pages, ensure that you have the same marketing copy or look as the link that lead to it, otherwise you risk loosing the customer. If someone click your link on " Golf ball reviews " you landing page better say, " So what do you want to know about Golf balls reviews or give him different option to choose a Golf ball "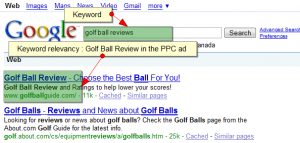 – Test your landing pages and communication :
By sending different users to different landing pages with the same communication will reveal landing page statistics and the conversion elements of each landing page. Ensure that a tracking code is implemented to the landing page. Google Analyics is a good free software that you can use to implement on your landing pages. Based on the results you can tweak your pages to ensure maximum users are clicking on call to action elements. These could be sales oriented or lead generation oriented or maybe just information oriented depending on the goal or objective of the landing page and the campaign.
– Throw some giveaways :
I ve used PPC landing pages to give away educational whitepaper and sample reports. This gives a chance to collect and build a list and ask questions that gauge interest in your products.


– Keep it simple and relevant :
Figure out what your one customer goal is, and that should be the center piece for each of your landing page. Each PPC landing page should include links that go to relevant content on your landing page but should not be replication of your content. Stick to the offer and have one definite call to action.
If you like this post , you may want to subscribe to my Email or RSS feed.