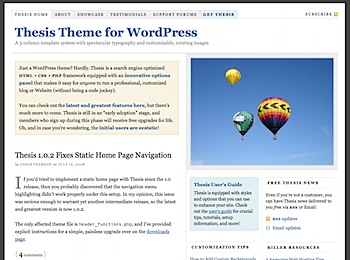 The Thesis Theme is without doubt one of the best Wordpress themes available online alongwith the Ultimate Blogging Theme. I saw a few blogs created with the Thesis Theme, I liked it and I bought the developers licensed version.
Why did I buy the developers license and not the single license for the Thesis Theme ?
– I bought the developers license version so that I can use it on more than one of my blogs. This is a perfect Wordpress Theme that can fit any kind of niche that you want to blog about.
Why would I want to use the same design on different blogs ?
– The beauty of the Thesis Theme is that you can change the design without changing the code, that's one of the amazing features of Thesis. You can change the theme from 2 column to 3 column without touching a single piece of code. This works perfect for someone like me who does not know coding or programming. You don't have to depend on your programmer or designer to change you template with the thesis theme.
For someone who has no clue about php or wordpress hacks this works best. It gives great functionality that a common blogger would not be able to obtain for themselves otherwise by being able to make changes via a simple control panel instead of having to alter the actual Wordpress code ( you can check some Thesis Theme Testimonials)
The functionality aspect of the theme works very well, you can tick a box that allows you to use either the default css theme or your own custom "css file" and you can tell Thesis to replace all of the generic links to your RSS feed in Wordpress with your Feedburner.
It allows you to pick and choose the pages, blog categories and add links outside the sites, instead of utilising the you want to display instead of utilising the code that displays anything you designate as a page. Check some blogs done on the Thesis Showcase Gallery.
The 300 x 250 ad banner is perfectly placed to get maximum clicks for your advertiser or product, you can change this to rotate between the pictures, videos or even include a custom code for all your sponsors in that area. It's got a great feature of having place any ad you wish for any page on your blog. If you have a blog post for SEO , you can place an SEO based affiliate product or banner to maximise relevancy for your blog post.
All this without having any coding knowledge or touching a single piece of code in the Wordpress template. All you need to do is use the custom key option on the specific page or post.
The Thesis Theme boasts the strongest SEO structure of any theme in the market today, thanks to its expertly coded fame work and comes with a very solid support system. All future upgrades and releases of the theme are free.
With a developers license I can make multiple blogs that don't look similar but have the same code and structure running them. Thesis is a Wordpress Theme that will give you the option and flexibility of changing your design without touching the template code. And that's only one reason why you need the Thesis Theme.
Limited Offer : Get the Thesis Theme at a $ 30 Discount