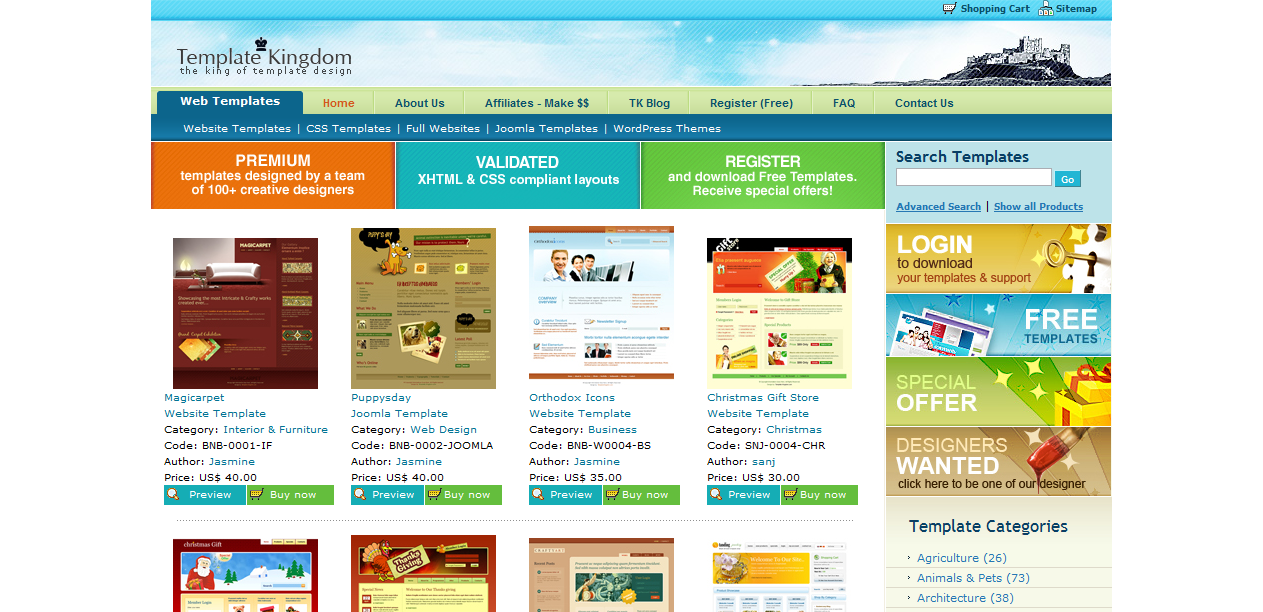 Template Kingdom provides a very inexpensive and quick way for business and web owners to get a well designed web site by offering great templates. These templates are designed by over a 100 professional designers and are user friendly. Template Kingdom has more than 2000 web templates and more than 50 categories for you to choose from making it one of the largest sources of downloadable templates.
For a web marketer or a business owner looking for an attractive web design, this is a great resource. Using these professionally designed web2.0 templates saves money and makes your website stand out to your visitors.
You can choose from 3 types of web templates. The first is the web template which is the regular template that can be used for websites, this is the most common and widely used by business owners aspiring to design professionally designed websites in a cost effective manner. The advantage of this is your get professional templates at a much lower cost without compromising the quality of your site design.
The second type of template is the CSS Templates. CSS stands for Cascading Style Sheet and is used very often by web designers to create easy to edit and clean web designs. The CSS templates at Template Kingdom are very attractive and easy to navigate by visitors.
Joomla is a powerful CMS that can be used to create simple to very complex corporate applications. Using a content management system can save you time and will make your site look more professional. Template Kingdom has great Joomla templates that will fit all content categories.
Template Kingdom also has free templates that you can download from the site.
All the types of templates on Template Kingdom can be further customized and required, text content can be changed by using simple editors like notepad, front page and dreamweaver. PSD image files and FLA files are also provided so that you can improve them further as required.