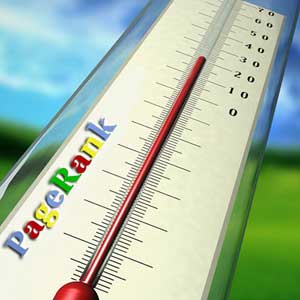 Google has been very generous to webmasters lately it's done three Page Rank ( PR ) updates in the last six months, averaging one Page Rank ( PR ) update every 2 months. This blog went from PR 0 to PR 3 in the last six months.
My assumption is that the next update should be end of march or early april and here is what you need to do to increase your Page Rank (PR) when Google has its next update.

1 ) Influence keywords in your Anchor Text :
– Try to get inbound links where the actual words used to link include your target keywords.( ie. one of the target anchor text keyword is Internet Marketing Blog. You can have a different anchor text keyword link based on your niche and the keywords you want to rank for in Google. To get relevant keywords for your site you can use Wordtracker or Google Trends. I use Wordtracker for relevant keywords for my sites, it also helps me get long tail keywords for PPC campaigns.
When people link to you, the anchor text that they use helps your site rank well for the keyword that are in the anchor text. If you link to Wordtracker with the anchor text " Keyword tool ", then the search engines believe that Wordtracker has a good chance of being a keyword tool.
And since influencing others is harder than simply writing copy, search engines feel comfortable trusting anchor text more than page copy.
2 ) Push your top performing pages with internal links
If you have items that are selling exceptionally well, but do not rank as well as you would like for the related keywords, you can help boost the rankings of those pages for the target keywords by linking to them more aggressively on your site using anchor text.
You can create a section named top sellers or My top picks. These could feature top selling items and be linked to aggressively from a high level page in your site. Or if you have a small site you can potentially link to your best selling items from every page on your site.
If you have categories that are under performing, consider linking to them less frequently so that more of your overall link equity flows into your top performing sections instead.
3 ) Submit rich keyword content to trusted sites
– Get relevant quality inbound links by submitting content to sites that are trusted by search engines. If you are a new site it may take a while for search engines to trust you as a website and rank your site for keywords, a faster way to get the trust of search engines is to get your content published on trusted domain sites.
I ve used the following sites to publish content for my blog these sites are valuable and trusted by the search engines. Publish articles based on the content of your site on Squidoo.com, Hubpages.com, ezinearticles.com .
Publishing content on these sites will give you faster access to indexing and ranking on Google.

4 ) Support cast of similar keywords :
– Support your main target keywords with a range of similar keywords – your supporting cast. These keywords show the search engines that your pages are real, and will bring you additional traffic.
Here is an example of how well mixed page title, meta description, h1 and h2 headings will impact your ranking :
Download Free Movie Reviews
h1 Best movie website rating h1
h2 Movie website with the largest movie site database h2
Notice the following:
– Usage of related phrases like site and website
– Singular and plural versions of movie
– Mixing the order of keywords.
5 ) Pick Keywords before you write Content
Use your target keywords in key places like your domain names, page title tags and file names. This means they are likely to be used as all important anchor text by other sites when they link to your site.

Domain Names :
– If your domain name is mywebsite.com then many people who mention you are going to link to you using mywebsite or my website as the anchor text. If your domain name is mybigwebsite.com then many people will link to you with my big website as the anchor text
Page Titles :
– For individual pages the page title tag acts similarly to the way in which a domain name influences site references. Many people who link tend to reference articles by their official name. If your article is entitles The History of My website, then people who see that are likely to link your site with that name as the anchor text.