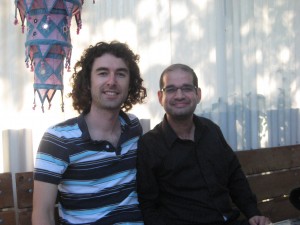 If you want to succeed in life, study a successful person. Try and understand the mindset of the person. Associate with like minded people. This is a proven method to becoming successful. Since my early internet days Yaro has always been an inspiration to me and I did not want to miss my chance to meet him at the Live Organic food Bar during the Toronto Bloggers Meet.
Yaro makes over $10,000 every month from his blog and attracts over 5000 daily readers.
Yaro can be recognized from a distance with his long hair and friendly appearance. He was sitting alone reading a book when I walked upto him and shook his hands. " I am a bit earlier " he said . "That's nice , we can discuss a few things about blogging " I said. It was a great opportunity for me to ask him how to succeed online.
Yaro told me he started blogging in 1998 but did not achieve much success till 2004, that's when he launched the Blog Mastermind Alliance Coaching program. From 1998 till 2004 he hardly made any revenue from his internet sites. He was happy that the New Blogmastermind Series had received great response from the blogging community. He told me that he had limited seats available for the program.
Yaro likes to concentrate on teaching a limited number of people at a time so that he can focus on teaching them his blog techniques and give individual attention to his class. Although there were 20 other bloggers at the meet, Yaro ensured that he spent time with all of the bloggers, some of his student from the Blog Mastermind Series who lived in Toronto had also come to meet the master in person.
What success traits did I learn from Yaro that evening.
– Persistency and consistency pays even if you are not making any revenue from your blog or internet business right now, hang in there. Don't give up. It took Yaro four years to start making a steady revenue from his blog.
– Follow your dream : Yaro had a dream to make his blog his business which would generate a source of passive income.
– People skills : This is a very rare trait to have, but Yaro seemed to have mastered this trait. He gave ample time to fellow bloggers and gave them advise on improving their blogs.
He had a brief and powerful message for readers of WebTraffciROI. He said, "If you want be successful follow and associate with successful people". If you want to make money blogging, follow the bloggers who make money online. Success rubs Success.
To know more Blogging secrets Download Yaro's FREE Blog Profits Blueprint